It's Crabtoberfest!
That's right, stop in and stock up on all your favorite crab products.
Our Famous Crab Cakes, Crab Bowls, Crab Legs, Crab Critters, Crab Soups & more.
Shrimp Trays • Lobster Tails • Award Winning Crab Cakes • Crab Bowls • Crab Critters • Savory Soups • Pellman's Desserts & More
NEW ITEM
 Shrimp & Crab Au Gratin Cake 4 oz. ($5.50 Each) Chunks of our Colossal Shrimp blended with sweet Crab Meat folded in a Smoked Gouda Au Gratin Sauce.
We offer a wonderful fish section.
Breaded Flounder, Norwegian Salmon, Ahi Tuna, Smokey Applewood Salmon, Chili Lime Tilapia, Citrus Peppercorn Tilapia, Wild Caught Flounder, Pecan Crusted Tilapia, Nordica Breaded Flounder, Guinness Battered Cod Tenders, Coconut Crusted Tilapia, Lemon Pepper Tilapia, and Potato Encrusted Cod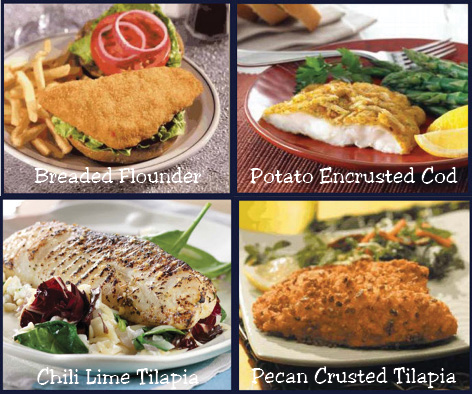 Coconut Shrimp
Colossal Shrimp with a very light coating and crispy coconut.
Heat 400 degrees, for 10 minutes
Shrimp Balls and Crab Balls, perfect for dipping in our sauces.
Lobster Macaroni & Cheese 
(enough for 2-3 servings)