NEW SOUP!!!
Chicken Farfalle Soup
"Capt'n Chucky's own broth, gleaned from boneless chicken breast – his choice of petite vegetables and his very secret spices, finish with Italian Farfalle (Bow-Tie Pasta)."
NOT YOUR CANNED CHICKEN SOUP
We offer a wonderful fish section.
Breaded Flounder, Norwegian Salmon, Ahi Tuna, Smokey Applewood Salmon, Chili Lime Tilapia, Citrus Peppercorn Tilapia, Wild Caught Flounder, Pecan Crusted Tilapia, Nordica Breaded Flounder, Guinness Battered Cod Tenders, Coconut Crusted Tilapia, Lemon Pepper Tilapia, and Potato Encrusted Cod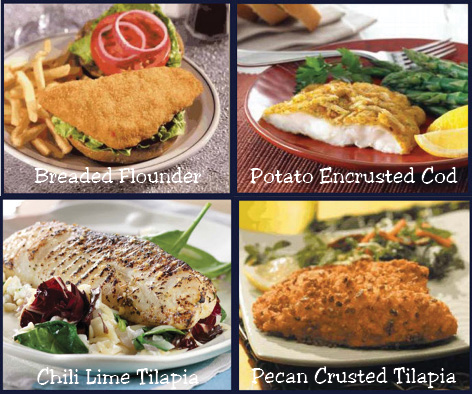 Coconut Shrimp
Colossal Shrimp with a very light coating and crispy coconut.
Heat 400 degrees, for 10 minutes
Shrimp Balls and Crab Balls, perfect for dipping in our sauces.
Lobster Macaroni & Cheese 
(enough for 2-3 servings)